1. Buyback Authorizations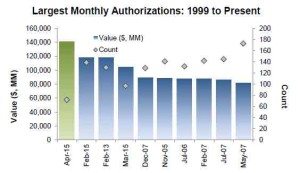 2. Value of M&A Deals
3. Valuation of M&A Deals
The average EV/EBITDA multiple for global M&A stands at 12.4x in 2015 YTD, the highest full year level on record.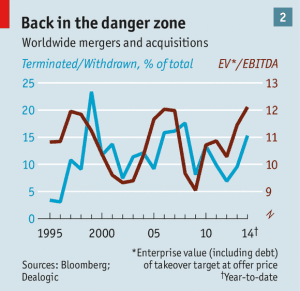 via Economist
4. % IPOS unprofitable
Near or at highest ever.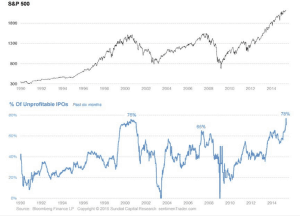 via Howard Lindzon
5. Shiller CAPE
Highest except 2000, 2007, and 1929.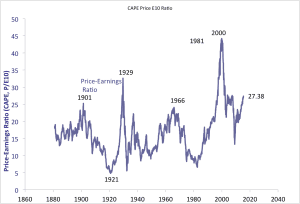 via Shiller
6. Median P/S Ratio
The Price-to-Sales ratio of the median stock in the S&P 500 is at an all time high at 2.1 since 1964. Median 0.89 . Ditto for median price to book, earnings, and cash flow.
via Ned Davis
7. Allocation of Investors to Equities
With exception of 2000, near prior peaks.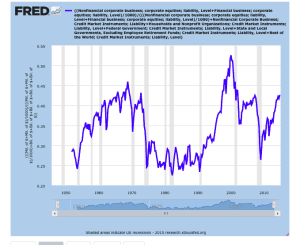 8. P/E Ratio of Cheapest S&P 500 Sector
Highest ever.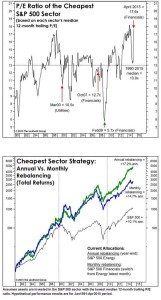 Via Leuthold
9. NYSE Margin Debt
All time high.
Via dShort
10. Yearlong Sentiment
Second highest ever.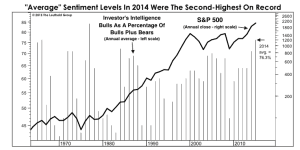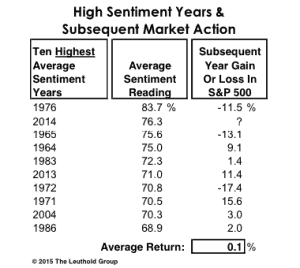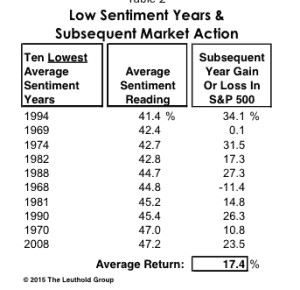 via Leuthold
…And the 1 bullish chart……
The trend.
Is up.
And for now, the 1 bullish chart is more powerful than all the bearish charts…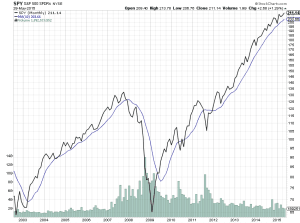 via StockCharts